"Taxi Dog brings joy, compassion, caring and empathy into the classroom. The program aligns with common core standards and kids learn while having fun!"
- Lane Weiss
Superintendent, Saratoga Union School District, Saratoga, California
What is "The Adventures of Taxi Dog?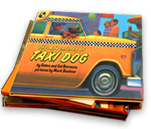 Imagine an illuminating, visually engaging ride with Maxi the Taxi Dog, a rescue canine who travels with his owner Jim in a vintage Checker Cab all over the diverse, thriving landscape of the "Big City." As you travel, you are experiencing most of Maxi's world through his physical and visual point of view. You've just imagined "The Adventures of Taxi Dog", a unique TV series wherein the enthused Maxi is always eager to experience new things, see new places, make new friends and help people resolve their problems.
"The Adventures of Taxi Dog" brings to children's television an adaptation of the popular Penguin published book of the same name which has captured a loyal audience for over twenty years.
"The Adventure of Taxi Dog" powerfully supports a child's healthy emotional development. Find out more on our education webpage.
"A brilliant tool to gently connect people to their hidden potentials."
- Martin P. Robinson
Emmy Award winning Puppeteer
How is the show produced?
"Under the hood" of TAXI DOG's lovable characters and heart-warming comedy lies an invisible surprise: the show's cutting edge technology and innovative production process. Maxi himself is brought to life by a clever synthesis of live puppetry and computer graphics. In TAXI DOG, the big city's amazing sights are also stars of the show. To bring "big city" locations to a children's TV budget, we don't bring Maxi to New York. We bring New York to Maxi! The NY locations for each episode are identified in each script. Our small second unit team in New York captures these locations with high-resolution still photographs and HD footage. This imagery is then used to construct VIRTUAL ENVIRONMENTS in the computer. The entire episode is then filmed on a "green stage".
"Taxi Dog empowers children to believe in themselves, which will lead to success in all aspects of life."
- Mrs. Costiera
Elementary School Teacher, Oliver Street School, Newark, NJ
The Production Team
Executive Producers Howard Grossman and Victor Syrmis have assembled a high-octane production team to bring Taxi Dog to life. The production is super- vised by Academy Award nominee Bill Kroyer (Tron, Scooby Doo, Garfield) Writer Aaron Mendelsohn (the first two Disney's Air Bud movies) and Peabody Award winning writer Tom Minton (Phineas and Ferb, Baby Looney Tunes, The Sylvester and Tweety Mysteries). One of America's most famous puppeteers, Marty Robinson (Sesame Street, Mr. Snuffleupagus) drives the performance of Maxi.